ABOUT MONGOLIA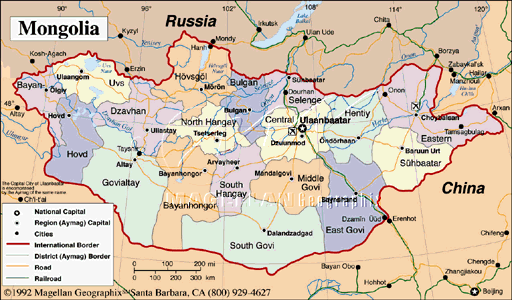 Mongolia is truly one of the world's last undiscovered travel destinations and the safest country to visit. It is a land where you can experience wide-open spaces, cobalt blue skies, forests, deserts, crystal clear rivers and lakes, and the traditional hospitality of the nomads. Permanent dwellings are few and far between, fences even fewer and the land is owned by the people, like one large National Park.
As a tremendous destination to experience the outdoors, Mongolia also boasts of unique history dating back to the Mongol Empire of Genghis Khan. Simply put, it is a land of adventure, horses, nomads, and blue sky.
Population:
2.8 million

Area:
1,566,000 sq km (610,740 sq mi)

Land boundaries:
8,158 km, with Russia 3,485 km and with China 4,673 km

Average altitude:
1,580 m above sea-level

Terrain:
Vast semi-desert and desert plains, mountains in west and southwest, Gobi Desert in southeast

People:
Khalkha Mongols (86%), Kazaks (6%), about a dozen other Mongolian ethnic groups

Languages:
Mongolian. English is widely spoken in Ulaanbaatar.

Religions:
Buddhism, Muslim, Christian and Shamanism Literacy rate: 82.9%

Weather:
Average summer temperature +20'C, average winter temperature -26'C, average rainfall 200-220 mm. Winter lasts from November to late April, Spring from May through June, Summer from July through September.
The month of August is characterized by rapidly falling daily high temperatures, with daily highs decreasing from 27°C to 22°C over the course of the month, exceeding 32°C or dropping below 16°C only one day in ten. Daily low temperatures range from 6°C to 12°C, falling below 1°C or exceeding 16°C only one day in ten.

Political system:
Parliamentary republic. President elected for four years. Present President Elbegdorj Tsahia, elected in 2009. Prime Minister appointed by State Great Khural for four years. Present Prime Minister Mr. Batbold was appointed in 2009.

Legislature:
State Great Khural (Parliament), unicameral with 76 members elected for four years. The last election was held in 2008.

Judicial system:
Mongolian judicial system consists of Constitutional Court , Supreme Court, Aimag and capital city courts, soum and district courts.

State structure:
Mongolia is a unitary state and divided administratively into Aimags (21) and a capital city; Aimags are subdivided into soums; soums into bags; and a capital city into districts; districts into khoroos.

Foreign exchange:
The current exchange rate is 1318 Tugrik (MNT) to one US dollar (June 2012). Participants carrying foreign currencies worth more than US$10,000 with them are required to declare the amount of travellers checks or currency on arrival at the Airport. Participants are advised to carry sufficient amount of funds and to convert them to local currencies for transportation expenses at transit point(s) and upon arrival in Ulaanbaatar.

Fiscal year:
January 1 - December 31

Main entry points:
Chinggis Khaan (airport in Ulaanbaatar ), Sukhbaatar (railway station on Mongolian-Russian border) and Zamyn Uud (railway station on Mongolian-Chinese border)
By plane
The majority of visitors arrive in Mongolia through Chinggis Khaan International Airport (IATA: ULN), which is located 18 km to the southwest of Ulaanbaatar. The airport was reconstructed in 1990, and the immigration, customs formalities and luggage delivery are relatively efficient.
MIAT (Mongolian Airlines) offers direct international flights to the city from Berlin, Moscow, Irkutsk, Seoul, Beijing,Hong Kong and Tokyo. Korean Air also flies daily from Seoul to ULN. Air China flies to and from Beijing. The Russian airline Aeroflot flies daily between Moscow and Ulaanbaatar.
By train
Direct (but long) journeys are possible from Moscow, Russia and Beijing, China on the Trans-Mongolian line of the Trans-Siberian Railway. Trains also run to the Chinese border towns of Erlian and Jining 3-4 times a week. There's also a daily train to/from Irkutsk in Russia.
Trains from Beijing run once a week (on Tuesdays) and seats can only be reserved at the International Hotel in Beijing (a ten minute walk north of the main Beijing rail station). The journey takes about 30 hours. Packing a face mask might be a good idea as sandstorms in the Gobi desert may cause difficulty in breathing.
Public holidays:
December 31- January 1 - New Year 3 days in January/February - Mongolian New Year (Tsagaan Sar), July 11-13 - National Holiday (Naadam)

Time:
Add 8 hours to Greenwich Mean Time

Normal working hours:
09.00-13.00 and 14.00-18.00

Electric current:
220 volts/50 HZ

Weight and measures:
Metric System

Visa arrangements:
Participants should check with the relevant diplomatic or consular mission of the Government of Mongolia on visa requirements and, where required, obtain appropriate entry visas. Participants who need to stopover in other countries should also obtain appropriate transit visas. Participants have to bear all additional travel and related costs as a result of their failure in obtaining appropriate transit/stopover visas in advance.
A Note Verbale as well as a supporting document of NSO Mongolia will be provided to each participant to facilitate issuance of entry visa to Mongolia. NSO Mongolia will help participants from countries with no Mongolia Embassy stationed there to obtain entry visa upon arrival at Ulaanbaatar airport. They have to provide their passport copies and flight details to NSO Mongolia
as soon as possible.